AcroYoga Festival Autumn 2019
November 16 & 17, 2019
Sharing our passion with others at the Dutch AcroYoga Festival Autumn Edition
We (Lennert and Yvonne) are super happy to share our AcroYoga passion with you and that's why we organise four AcroYoga Festivals a year! We are both certified Yoga and AcroYoga teacher and teach weekly AcroYoga Classes in Leiden, The Hague and Haarlem. A new festival is coming up! The Dutch AcroYoga Festival Autumn Edition 2019! It will be held on the 16th and 17th of November.
On this page we will keep you updated with the latest information about the AcroYoga Autumn Edition 2019.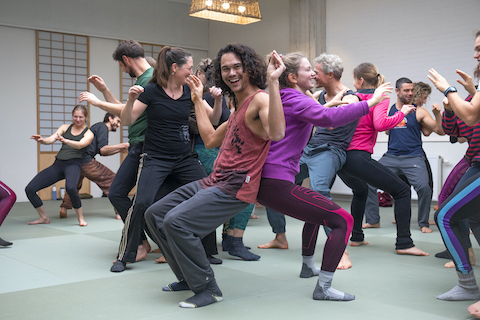 It's an all level festival for everybody. You will find experienced AcroYogi's doing amazing stuff, but also beginners that make their first flights, as we have beginner workshops every round. So feel free and happy to join for a weekend of Yoga, AcroYoga and Thai massage.
You don't need to bring a partner, because you'll meet loads of friends to play with at the festival! 
Special guest teachers at the AcroYoga Festival
We are super happy that we got special guest teachers Luigi & Francesca over from Italy. They are famous for their whip-pops and icarian games and they will please you with 4 juicy workshops!
More teachers and workshops will be announced soon, but of course you can already have a look at the preliminary schedule, to get an idea about the days.
As you're used to, there will be multiple workshops every round, so you will always find one that fits your level and needs.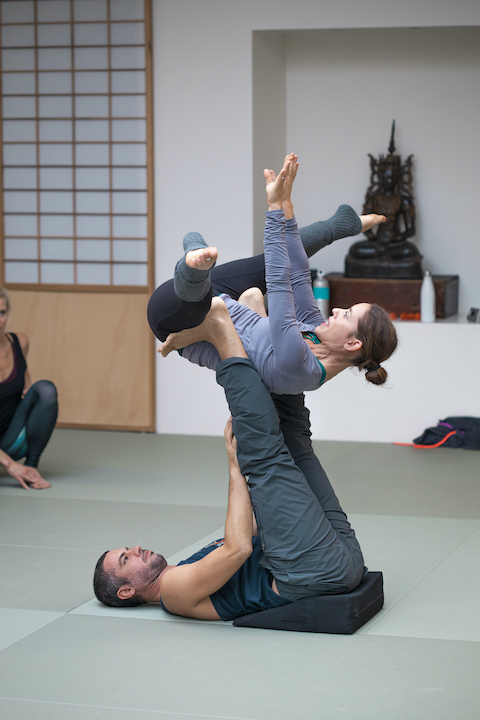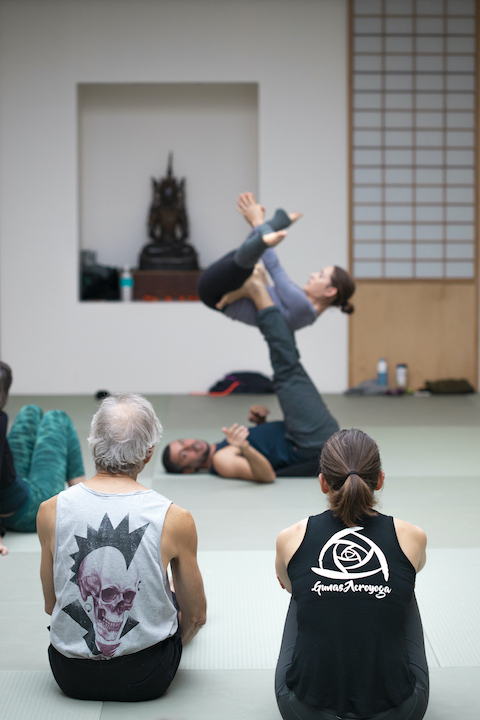 Teachers at the AcroYoga Festival Autumn Edition
Francesca & Luigi (IT)
Lennert & Yvonne (NL)
Otto & Samuella (NL)
Jos de Koster (NL)
Marijke van der Linde (NL)
Maxime Kroot (NL)
Lara Lamberts (NL)
Mabelle Hamerling (NL)
When is the Autumn Edition?
Saturday November 16, 2019, from 12:30 – 20:00
Sunday November 17, 2019, from 10:00 – 20:00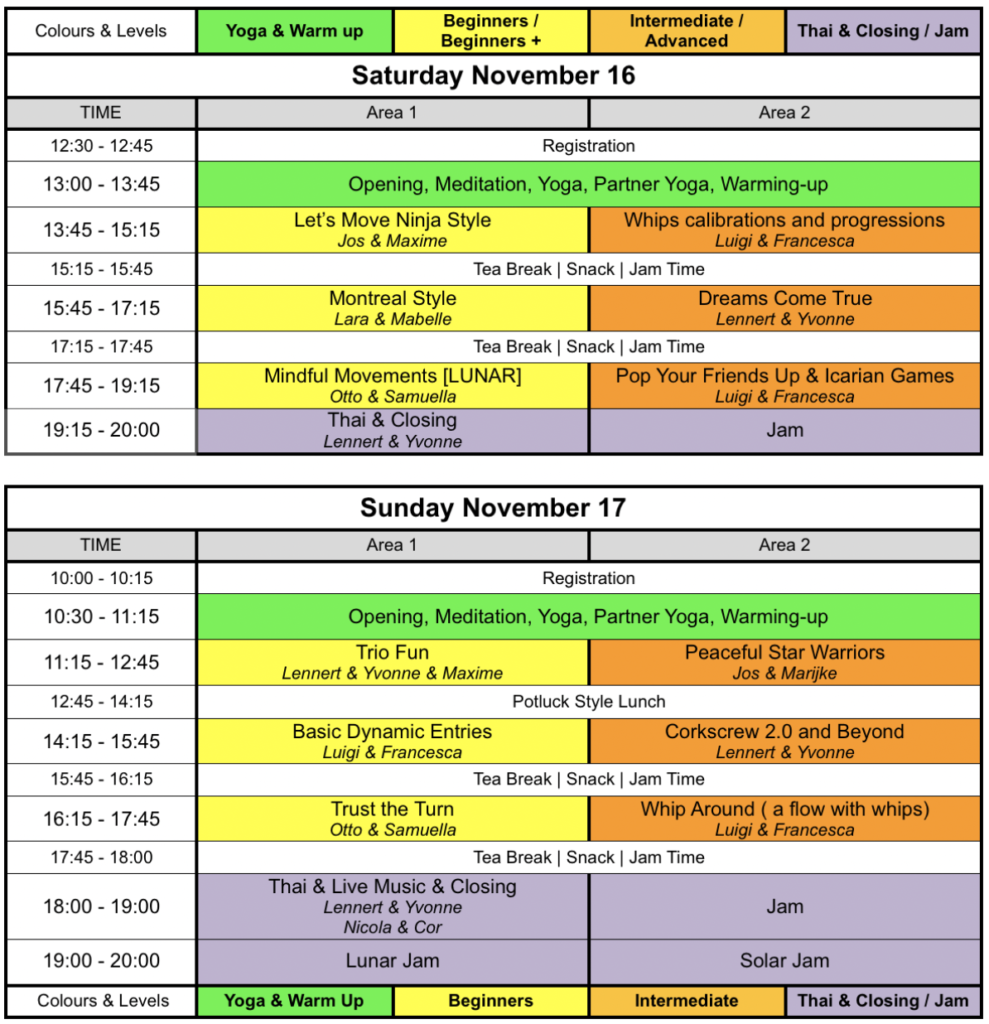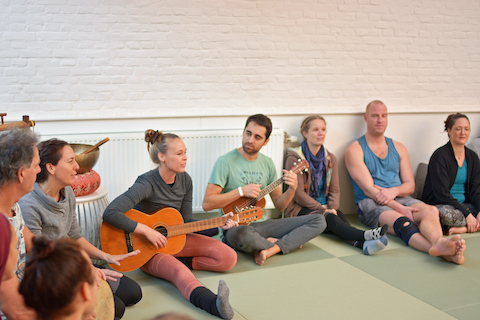 A mantra is a sacred group of words that can be sung as part of Bhakti Yoga, devotional singing. It's one of the aspects of yoga and AcroYoga that allows people to connect with themselves and with the people and world around. We love to chant mantra's in the circles, because it creates an atmosphere of solidarity and togetherness from which a group can blossom and flow.
🍏🍌🌮🌽
We love food and we love to share! We will bring some of course, but it won't cover all of your bellies. So there will be a potluck style lunch on Sunday, where you can share your best salads, cakes and quiches, and can taste it of the others too! Please, label your food (or rather, the boxes ;-)) if it's vegan or vegetarian! Oh, and please, bring your own plates, cups, cutely, etcetera.
Unfortunately, we don't have this amazing potluck style lunch on Saturday, because we're starting around lunch time 😉 So be sure you bring some snacks for in between the workshops!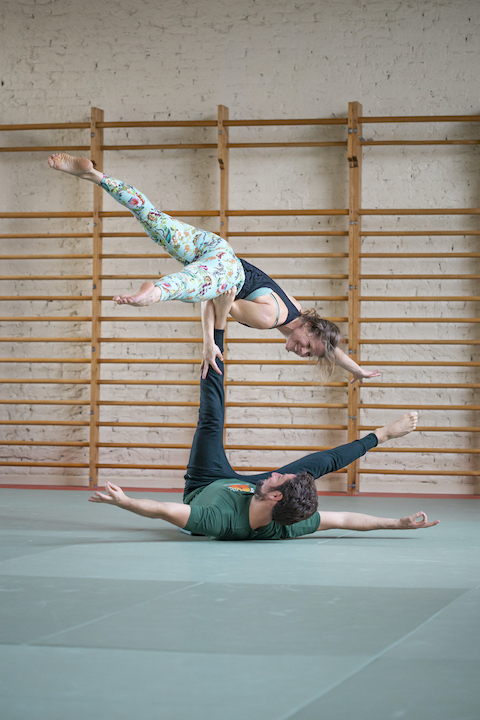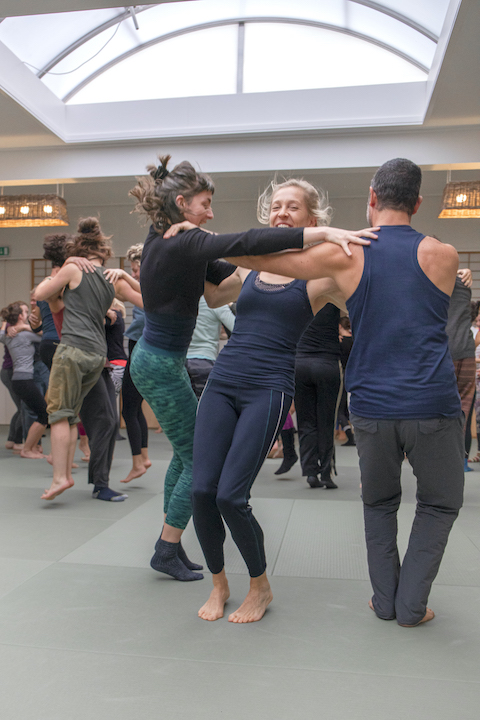 Autumn Edition Festival Venue
The Dutch AcroYoga Festival Autumn Edition 2019, will again be held on the 16th and 17th of November at the beautiful and easy-reachable sports centre Rob van der Hoorn in Oegstgeest. This awesome place has two big separate halls fully floored with tatami mats, so the workshops have there own playground and it makes it ideal for people who are sensible to noice..
Sportschool Rob van der Hoorn, Geversstraat 5, 2341 GA Oegtsgeest
🚘 There is plenty of free parking space.
🚞 If you come by public transport, it's a 25 minute walk from Leiden central station, or take a bus for few stops (5 minutes).
🎵 Live music.
🛍🎁 Sponsors (nice goody bag for everyone)
📸 There will be a photographer to capture your favorite moments
See pictures previous edition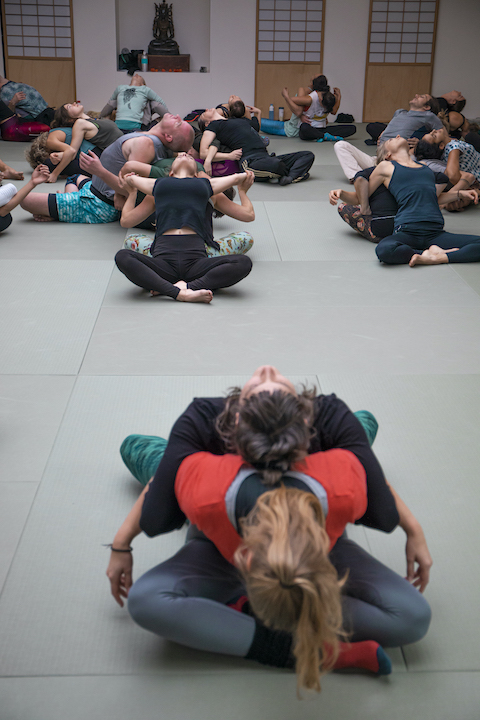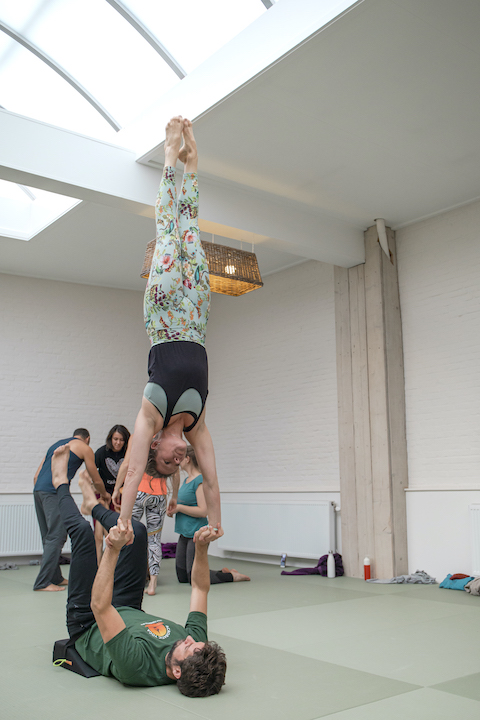 Saturday November 16, Super Early Bird* € 39,-
Saturday November 16, Early Bird** € 44,-
Saturday November 16, Normal € 49,-
Sunday November 17, Super Early Bird* € 44,-
Sunday November 17, Early Bird** € 44,-
Sunday November 17, Normal € 49,-
2-days, Super Early Bird* € 70,-
2-days, Early Bird** € 78,-
2-days, Normal € 88,-
Karma yogi's will get € 10 discount each day (spots limited).
* Super Early Bird, until: September 25
** Early Bird, until: October 25
Tickets are non-refundable, but you can swap your ticket. Please, then send us an e-mail with the lucky one in CC.
Dutch AcroYoga Festival Autumn Edition
November 16 & 17, 2019
Yoga Legging Festival Sale
Your favorite yoga wear is available at Dutch AcroYoga Festival with a special event price! Liquido leggings for everyone!