AcroYoga Festival Spring 2020
CancelLed due to COVID-19
Sharing our passion with others trough Dutch AcroYoga Festival Spring Edition
Yes! A brand new festival edition is coming up: the Dutch AcroYoga Festival Spring Edition 2020 which will be held on May 9 & 10 at a new and bigger venue than the winter edition, with more space, more playground, and so we can host more playful people!
Lennert and Yvonne love to share their AcroYoga passion with you as much and as often as possible, and that's why they organise four AcroYoga festival editions each year! They are both certified Yoga and AcroYoga teachers and teach weekly AcroYoga Classes in Leiden, The Hague and Haarlem. 
Would you like to know more about us? Read this!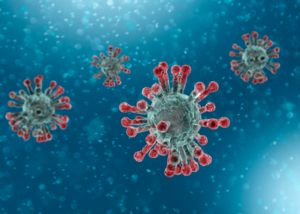 Spring event cancelled due to COVID-19
On March 23 the Dutch Government has forbidden all events until June 01. This means that we unfortunately have to cancel 'Dutch AcroYoga Festival Spring '20' (May 9, 10). We were very much looking forward to play and connect with you in May again.
So yes, we're really sad about the cancelation, but let's hope that we all, the world, human mankind, come out this crisis better than we entered. Luckily we have the DAYF Xmas '20 Edition in front of us. Let's hope that by then we've beaten the virus.
Dutch AcroYoga Festival – Xmas 2020
All the participants have received an email 📨If not please contact us!
Note:
We added an extra cancellation policy to secure you can safely buy your ticket for the upcoming editions of Dutch AcroYoga Festival.
For our COVID-19 policy, go here.
Special guest teachers at DAYF Spring Edition '20
We're super happy that we got the amazing couple Pri & Jen over from Spain as the special guest teachers. They're famous for their whip-pops and icarian games and they will please you with 4 juicy workshops!
Also Wybren Wouda & Trudi Albert one of the best acrobatic teachers are going to teach 4 acrobatic workshops.
You find more teachers below and of course you can already have a look at the preliminary schedule, to get an idea about the days.
As you're used to, there will be multiple workshops every round, so you will always find one that fits your level and needs.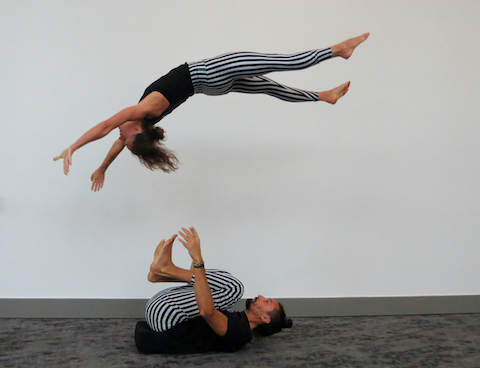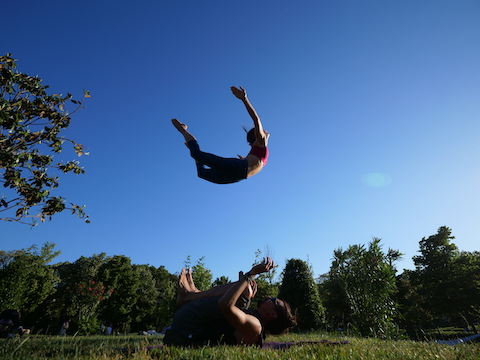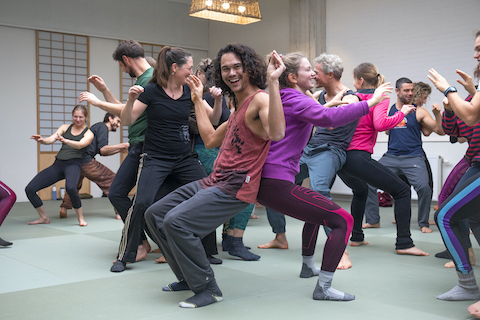 It's an all level festival for everybody. You will find experienced AcroYogi's doing amazing stuff, but also beginners that make their first flights, as we have beginner workshops every round. So feel free and happy to join for a weekend of Yoga, AcroYoga and Thai massage.
You don't need to bring a partner, because you'll meet loads of friends to play with you at the festival! 
When is the Spring Edition?
Saturday May 9, 2020, from 13:30
Sunday May 10, 2020, until 19:30
Note: scroll down for bigger image of festival schedule.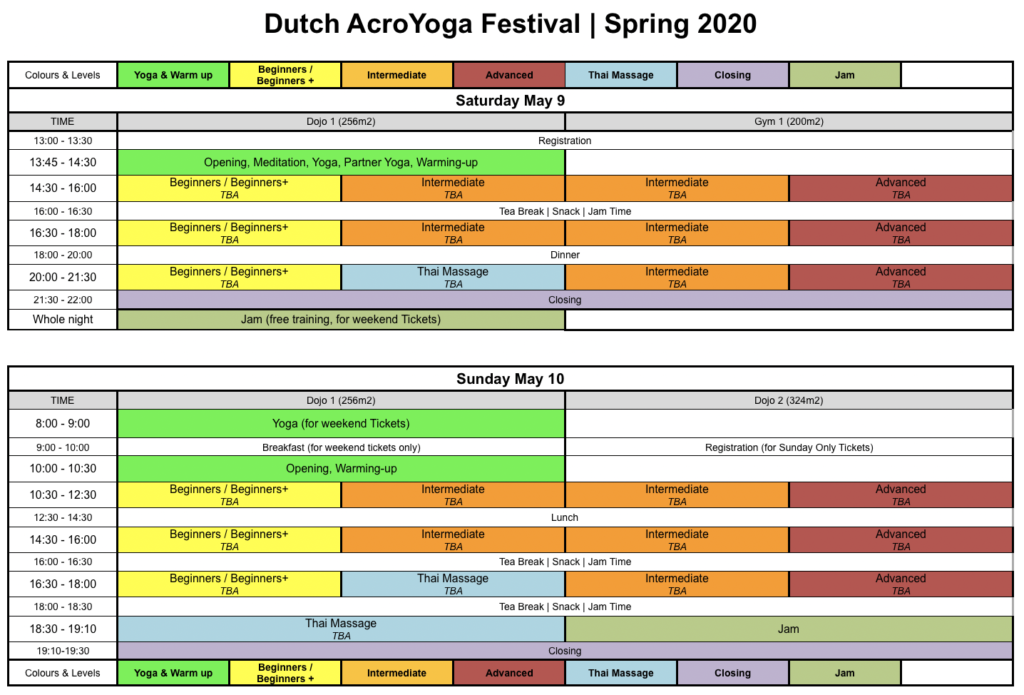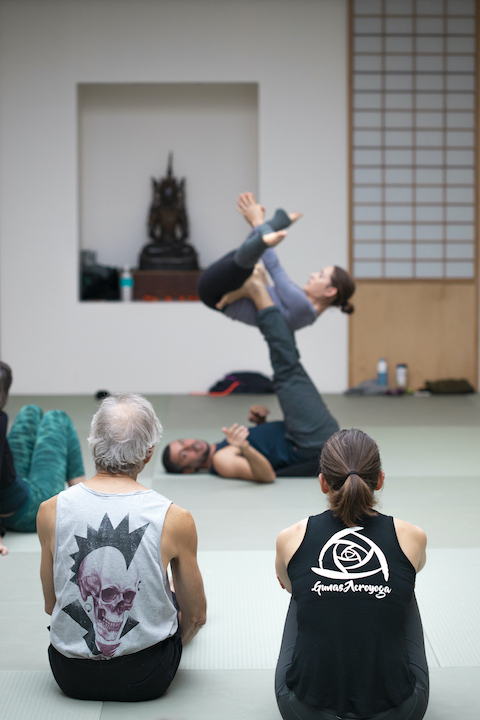 Your teachers at the AcroYoga Festival Spring Edition
Wybren Wouda & Trudi Albert (NL , DL)
Pri & Jen (SP)
Sytske Riphagen & Travor Baxter (NL)
Lennert Stevens & Yvonne Gravemaker (NL)
Natalia Virdee & Joshua Sleith (PL)
Paulo Carolo & Veronica Cruz (BE)
Inez Almeida (NL)
Jos de Koster (NL)
Marijke van der Linde (NL)
Roald Penning (NL)
Howdy Tio (Thai massage, NL)
Mabelle Hamerling (Tai massage, NL)
Tim Genee (Handstands, NL)
🍏🍌🌮🌽 
We're super happy that our lovely cook Eveline Delnooz will take care of our tummies! Eveline is an awesome cook who's used to cook for big groups of AcroYogi's and acrobats that do not only need a full plate of deliciousness, but also rich in nutrition. Eveline will take care of that, supported by a group of  amazing Karma Yogi's that will cut our veggies with love!
The festival starts on Saturday after lunch, so arrive with your belly filled, and enjoy a good vegan or vegetarian dinner after a good training! 
On Sunday, breakfast will be served for the full weekend participants, and lunch will be served for all.
Oh, please, bring your own plates, cups, and cuterly!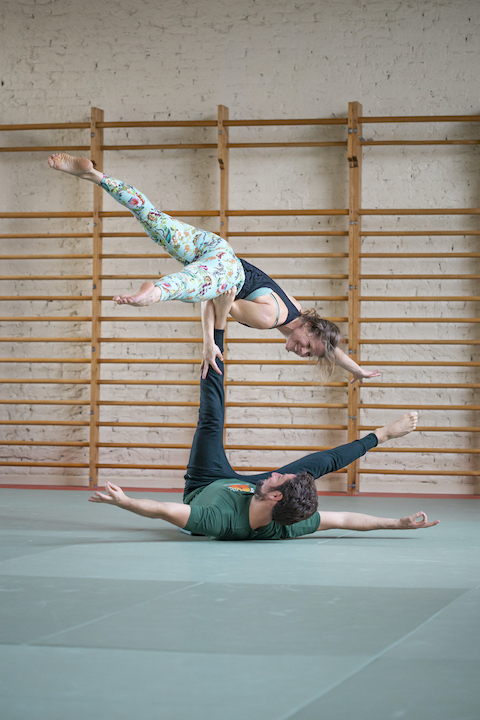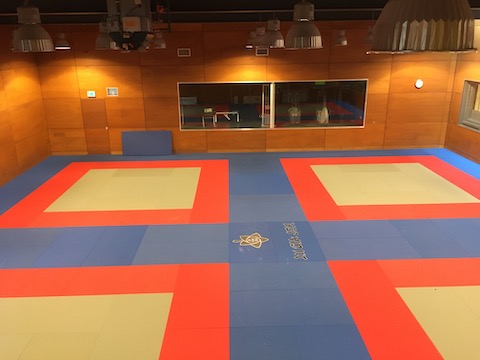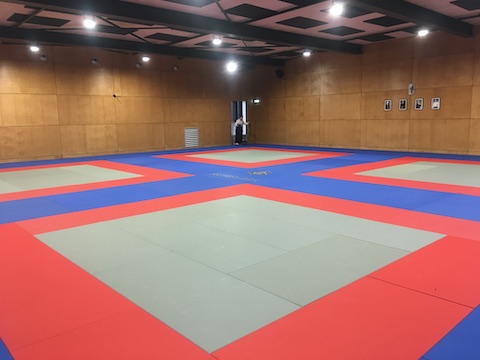 Spring Edition Festival Venue
The Dutch AcroYoga Festival Spring Edition 2020 will be held on May 9 & 10 at the beautiful and easy-reachable sports centre Lu Gia Jen in the royal and parlimentary residency of The Hague.  This awesome place has two big separate halls fully floored with tatami mats (256m² & 324m², see both images).
There are plenty toilets and showers available and there is the possibility to sleep in the gym.
Lu Gia Gen
Baambruggestraat 8a
2546SK Den Haag
The Netherlands
🎵 Live music; Prateodo (Handpan during Thai Massage, NL)
🎁 Sponsors (nice goody bag for everyone)
📸 There will be a photographer to capture your favorite moments
See pictures previous Edition.
FACEBOOK EVENT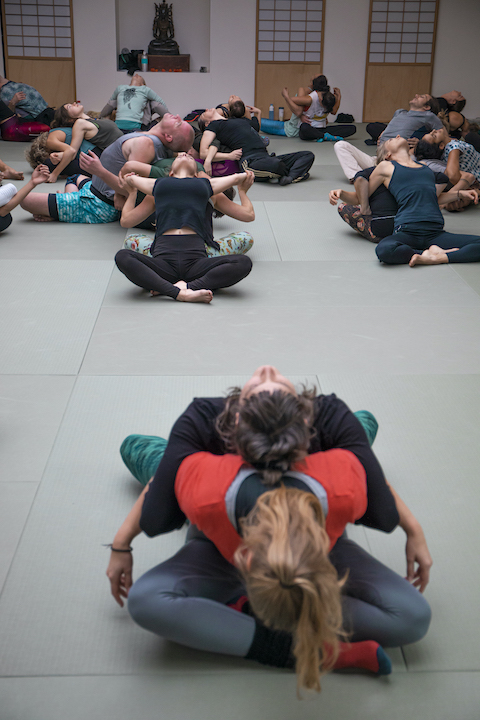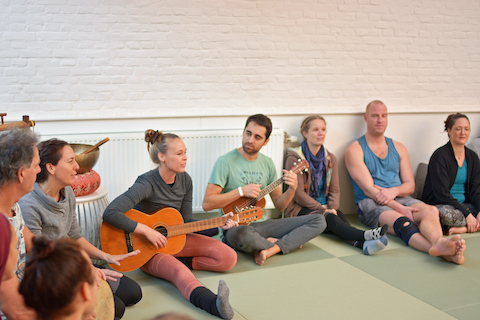 A mantra is a sacred group of words that can be sung as part of Bhakti Yoga, devotional singing. It's one of the aspects of yoga and AcroYoga that allows people to connect with themselves and with the people and world around. We love to chant mantra's in the circles, because it creates an atmosphere of solidarity and togetherness from which a group can blossom and flow.
Yoga Legging Festival Sale
Your favorite yoga wear is available at Dutch AcroYoga Festival with a special event price! Liquido leggings for everyone!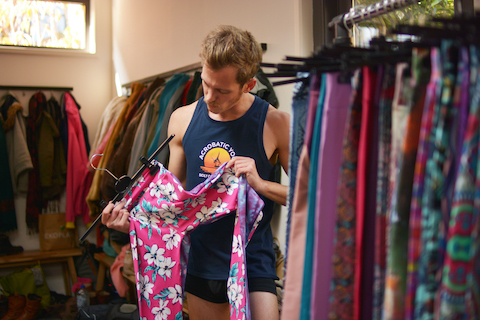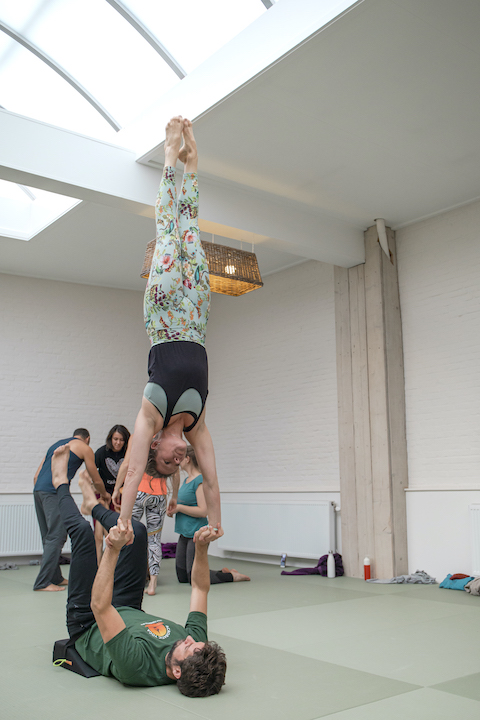 Saturday May 9, Super Early Bird* € 45,- [SOLD OUT]
Saturday May 9, Early Bird** € 50,- [SOLD OUT]
Saturday May 9, Normal € 55,-
Sunday May 10, Super Early Bird* € 45,- [SOLD OUT]
Sunday May 10, Early Bird** € 50,- [SOLD OUT]
Sunday May 10, Normal € 55,-
Full weekend, Super Early Bird* € 80,- [SOLD OUT]
Full weekend, Early Bird** € 90,- [SOLD OUT]
Full weekend, Normal € 100,-
Karma yogi's will get € 15,- discount each day
* Super Early Bird, until: March 2 or the first 40 tickets [SOLD OUT]
** Early Bird, until: April 15 or the first 80 tickets [SOLD OUT]
Short in cash? There is an option to pay € 30,- by banktransfer and the rest cash at the festival.
CANCELLATION POLICY
If you can not attend the festival anymore, please contact us!
Tickets are refundable, but we ask administration costs.
Until April 20, we keep € 15,-
From April 20, we keep € 30,-
NOTE I: Tickets are non-transferable.
Event is Canceled due to COVID-19
PAYMENT DETAILS
Bank account: NL40SNSB0925977055
Name: Turn and Twist
Description: 'Your name', DAYF Spring Edition, 'Date(s) joining'
For questions send an e-mail to: info@dutchacroyogafestival.com