Sharing our passion with you during Dutch AcroYoga Festival Summer Edition
A brand new festival edition is coming up: the Dutch AcroYoga Festival Summer 2021 which will be held on August 15 – 21. It's 7 days and we have the complete venue, which means: plenty of playground, loads of workshops, and more playful people we can host! Hopefully Covid-19 has been gone by then!
Are you up for 11 days of Acro? There will also be a Pre- and Post-festival!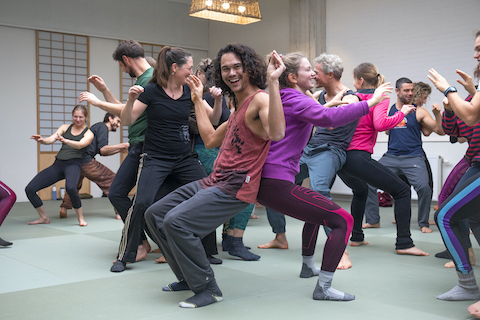 It's an all level festival for everybody. You will find experienced AcroYogi's and acrobats doing amazing stuff, but also beginners that make their first flights, as we have beginner workshops every round.
If you're completely new to AcroYoga, we do recommend you to have at least 5 to 10 classes.
And hey, you don't need to bring a partner, because you'll meet loads of friends to play with you at the festival! 
Special guest teachers: Jacob & Debbie, Pri & Jen
We're super happy that again we get amazing teachers over to the Netherlands. 
This edition Jacob Brown and Debbie Collis will fly in all the way from the USA. They will be teaching 7 workshops during the main festival and they're the teachers of the 2 day post-festival.
They love to teach flowy washing machines, Icarians, whippops, dance lifts and so much more. Be ready!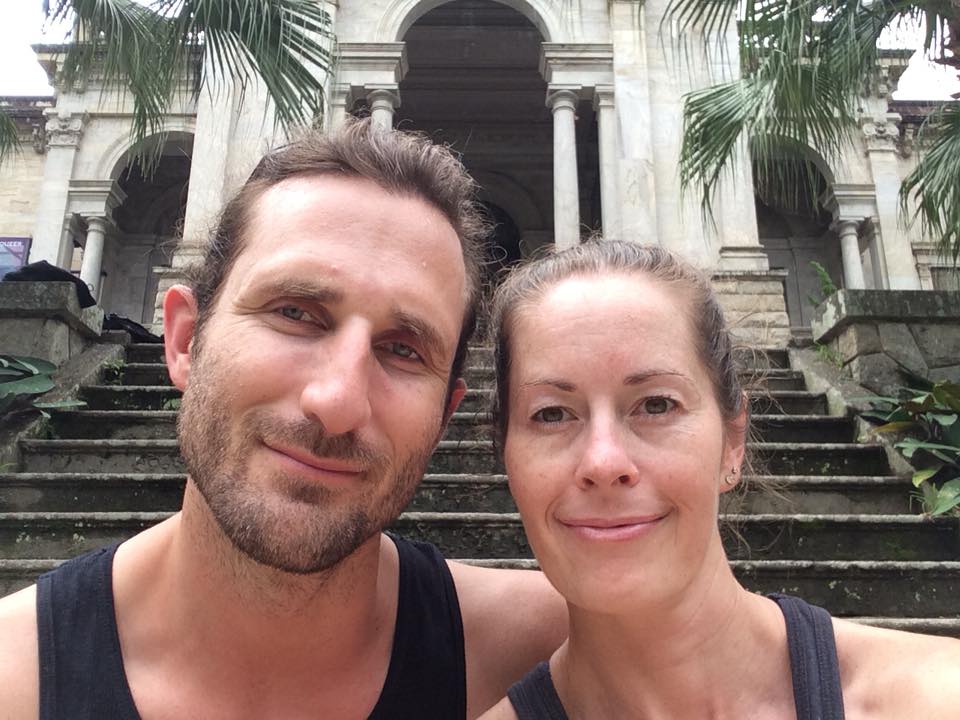 And  Pri and Jen will fly in all the way from the Spain. They will be teaching multiple workshops during the main festival and they're the teachers of the 2 day Pre-festival.
They love to teach Icarians and  whippops! 
A lot of other great teachers confirmed, check the line-up!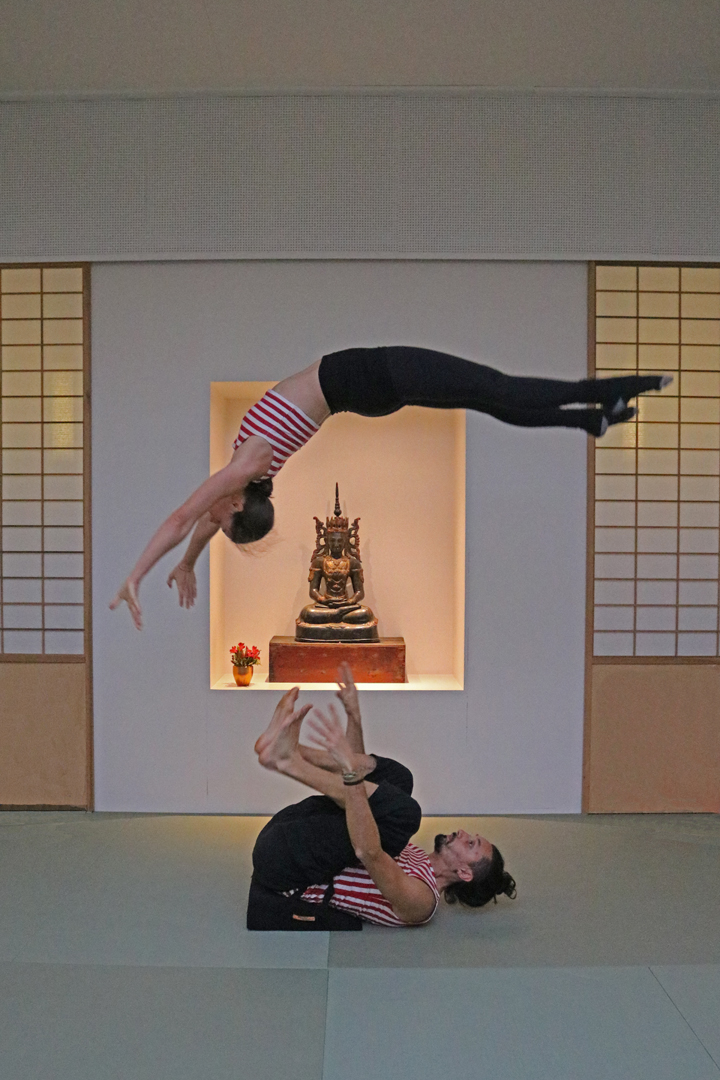 When is the AcroYoga Festival Summer Edition?
This festival edition starts with a 2 days pre-festival, which will be a small group of participants that likes an intensive training. It will be followed by the 7 days main festival, and it will be closed by a 2 days post-festival, taught by Jacob Brown and Debbie Collis from the USA.
PRE-FESTIVAL: AUGUST 13 – 14  (2 DAYS) led by Pri & Jen.
MAIN-FESTIVAL: AUGUST 15 – 21 (7 DAYS)
POST-FESTIVAL: AUGUST 22 – 23 (2 DAYS) led by Jacob & Debbie.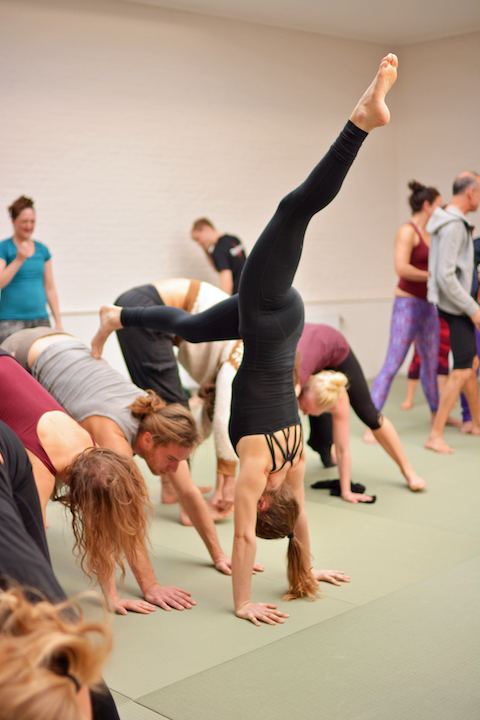 DAYF Summer 2021 Schudule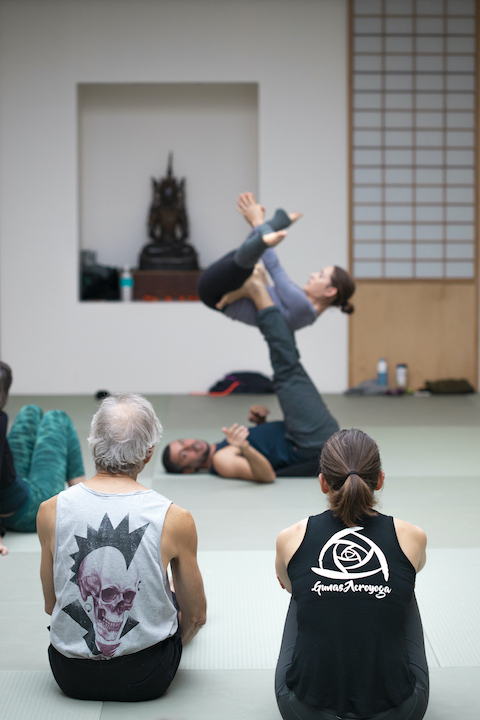 Your teachers at the AcroYoga Festival Summer Edition
Confirmed teachers
Jacob & Debbie ( USA)
Pri & Jen (ES)
Joe & Orin (Standing/ Icarian, IL)
Niko & Monika (Standing Acro, DE)
Tobias & Marieke (Standing Acro, NL)
Acro Bart (Venne, NL)
Saar & Ruslan (BE)
Katia & Alessandro (IT)
Joshua & Natalia (PL)
Sytske & Trevor (NL)
Karel & Maxime (Dance Acro, NL)
Anouk & Paulo  (BE)
Amitai & Oriane (IL)
Paulo & Ammanda  (BE)
Nenad & Jelena (RS)
Lennert & Yvonne (NL)
Anouk & Veronica (BE)
Adrian & Aylish (FR / NL)
Jos & Samuella (NL)
Boris Georgiev (AT, Yoga)
Howdy Tio (NL, Thai Massage)
We will make sure there will be an amazing teacher team again! Because the venue is so big and we got 7 days to train and connect, there will be many teachers and workshops to choose from. 
For more information about the teachers, have a look at the DAYF Teacher page.
The list will be updated regularly!
Music 
Renée Sunburd
More to be announced.
🍏🍌🌮🌽
Food is included in your ticket price! We're super happy that our lovely cook Eveline Delnooz will take care of our tummies! Eveline is an awesome cook who's used to cook for big groups of AcroYogi's and acrobats that do not only need a full plate of deliciousness, but also need it to be rich in nutritions. And that's exactly what Eveline will take care of. She will be supported by a group of amazing Karma Yogi's that will cut our veggies with love! Shout out to the cook and the Karma Yogi's!
🍏🍌🌮🌽  
Oh, please, bring your own plates, cups, and cutlery so you don't have to eat with your hands…
🍏🍌🌮🌽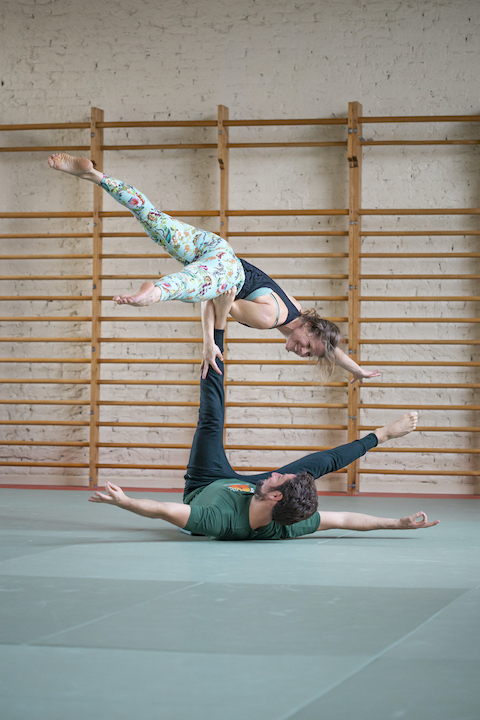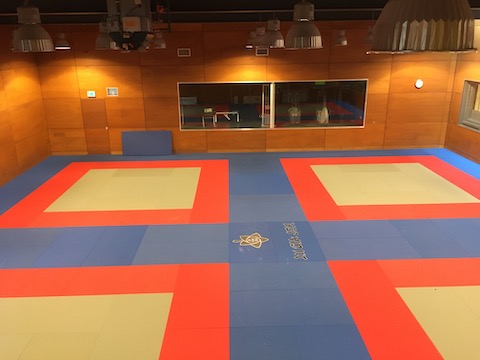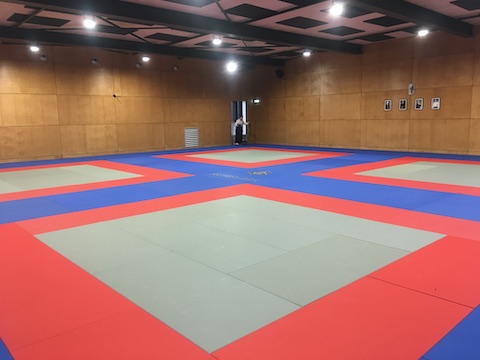 AcroYoga Festival Summer Edition Venue
The Dutch AcroYoga Festival Summer Edition 2021 will be held on August 15 – 21 at the beautiful and easy-reachable sports centre Lu Gia Jen in the royal and parliamentary residency of The Hague.  This awesome place has two big separate halls fully floored with tatami (256m² & 324m², see both images).
There's plenty of changing rooms, toilets and showers, and the possibility to stay and sleep in the gym (limited spots though).
The Pre- & Post-festival are held in the same location with a select group.
Lu Gia Gen
Baambruggestraat 8a
2546 SK  Den Haag
The Netherlands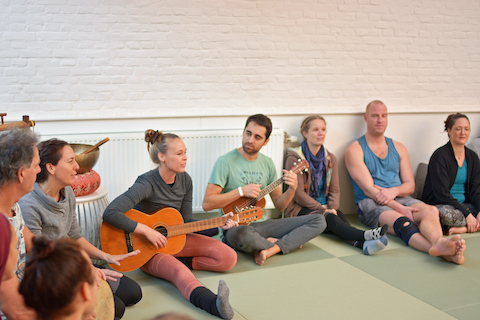 A mantra is a sacred group of words that can be sung as part of Bhakti Yoga, devotional singing. It's one of the aspects of yoga and AcroYoga that allows people to connect with themselves and with the people and world around. We love to chant mantra's in the circles, because it creates an atmosphere of solidarity and togetherness from which a group can blossom and flow.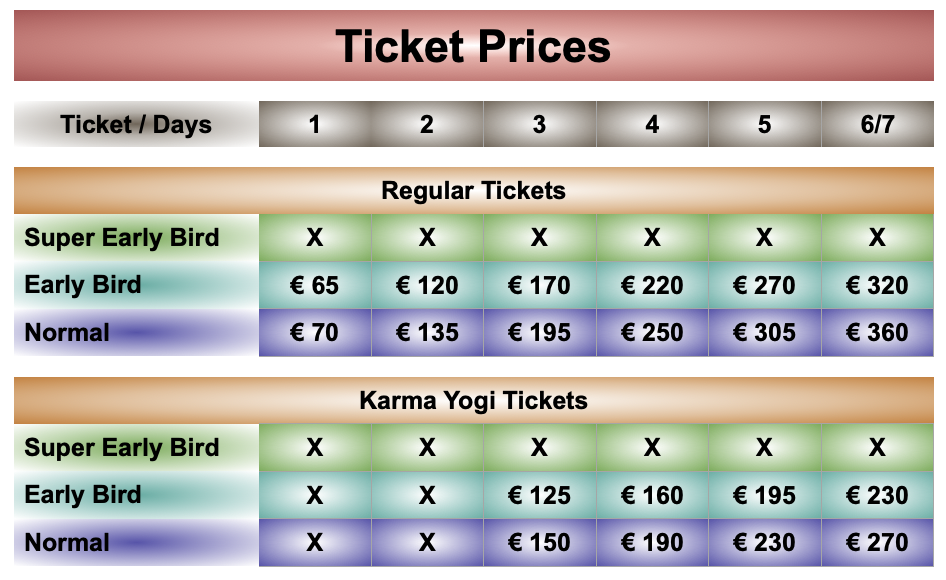 Buy a 6-day ticket and you'll get 1 day free!
Food is included in the ticket price.
If you buy a 4-day ticket or more, you will get a free DAYF T-shirt
Sleeping in gym is € 5 a night extra (limited spots available).
Everybody gets one task at the festival (it will take about 1h). Do you attend 3 days or more? You'll get two tasks
Karma yogi's will get € 15 discount each day (for exact prices see table). You will have about 1,5h Karma work a day, we try to plan it in a way that you can follow all the workshops.
Super Early Bird, until: March 15 or the first 45 tickets [SOLD OUT]
Early Bird, until: June 15 or the first 90 tickets
There is an option to pay € 100 by banktransfer and the rest cash at the registration desk at the festival.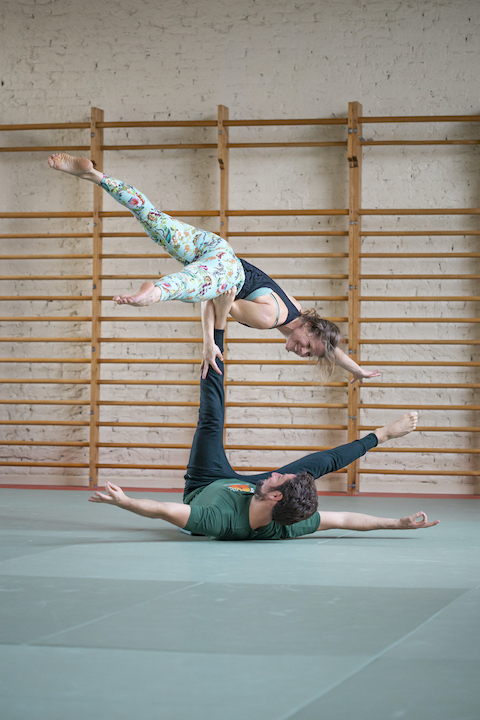 CANCELLATION POLICY
If you unfortunately can't attend the festival anymore, please contact us!
Tickets are refundable, but we ask administration costs.
Until May 1, we keep € 25
From May 1, until July 1, we keep € 50
From July 1, it's non-refundable.
NOTE I: Tickets are non-transferable.
NOTE II: For our no-risk COVID-19 policy, go
here
.
PAYMENT DETAILS
Bank account: NL40SNSB0925977055
BIC/SWIFT code: SNSBNL2A
Account holder: Turn and Twist
Description: 'Your name', 'DAYF Summer '21', 'Date(s) joining'
Address: Aagje Dekenstraat 17
Postal Code: 2032 VC
City: Haarlem
Country: The Netherlands
For questions send an e-mail to: info@dutchacroyogafestival.com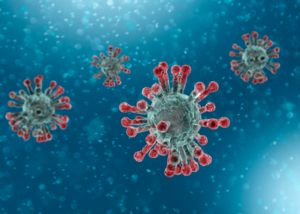 We added an extra cancellation policy to ensure you can safely buy your ticket for the upcoming editions of Dutch AcroYoga Festival.
For our COVID-19 policy, go here.
Are you not satisfied yet?
Be ready for 2 or 4 more days of extra training before or after the DAYF Summer Festival!
PRE-Festival led by: Pre & Jen! 
POST-Festival led by: Jacob Brown and Debbie Collis! 
These amazing international teachers will guide you during the workshops to higher heights in your practice, both literally and figuratively speaking…  
Only 30 spots available!
to DAYF Summer Edition, August 15- 21, 2021