Sharing our passion with others trough Dutch AcroYoga Festival New Year 2021/2022
 Yes! A brand new festival edition is coming up: the Dutch AcroYoga Festival New Year 2021/2022 which will be held on January 2 – 8. It's 7 days and we have the complete venue, which means: more playground, more workshops, and more more playful people we can host!
Lennert and Yvonne love to share their AcroYoga passion with you as much and as often as possible, and that's why they organise four AcroYoga festival editions each year! They are both certified Yoga and AcroYoga teachers and teach weekly AcroYoga Classes in Leiden, The Hague and Haarlem. 
Would you like to know more about us? Read this!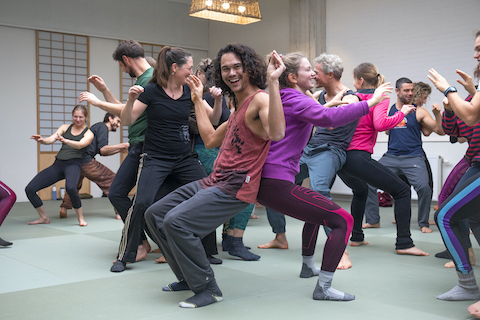 Yes, also for beginners!
It's an all level festival for everybody. You will find experienced AcroYogi's doing amazing stuff, but also beginners that make their first flights, as we have beginner workshops every round. So feel free and happy to join for a day, a weekend or a week full of Yoga, AcroYoga and Thai massage.
You don't need to bring a partner, because you'll meet loads of friends to play with at the festival! 
🍏🍌🌮🌽
We're super happy that our lovely cook Eveline Delnooz will take care of our tummies! Eveline is an awesome cook who's used to cook for big groups of AcroYogi's and acrobats that do not only need a full plate of deliciousness, but also need it to be rich in nutritions. And that's exactly what Eveline will take care of. She will be supported by a group of amazing Karma Yogi's that will cut our veggies with love! Shout out to the cook and the Karma Yogi's!
🍏🍌🌮🌽  
Oh, please, bring your own plates, cups, and cuterly so you don't have to eat with your hands…
🍏🍌🌮🌽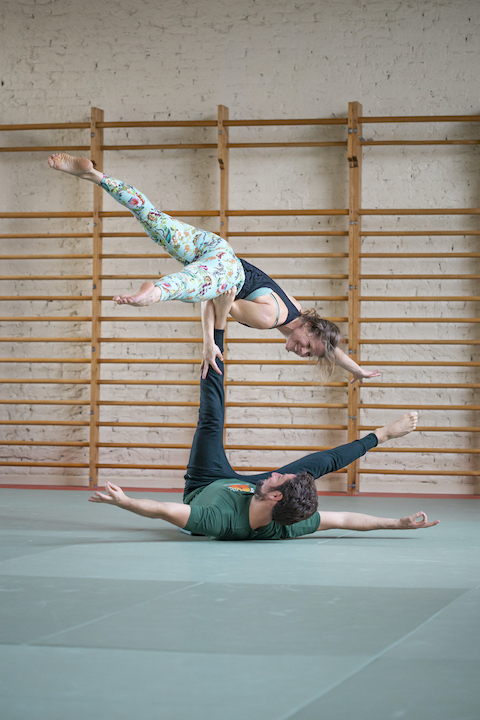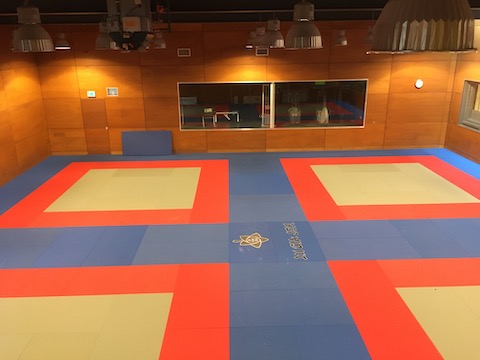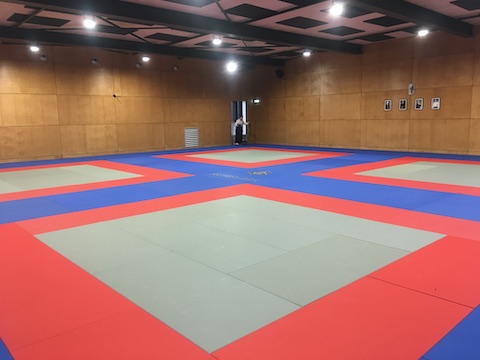 Dutch AcroYoga Festival New Year Venue
The Dutch AcroYoga Festival New Year 2021/2022 will be held on January 2 – 8 at the beautiful and easy-reachable sports centre Lu Gia Jen in the royal and parliamentary residency of The Hague.  This awesome place has two big separate halls fully floored with tatami mats (256m² & 324m², see both images).
There are plenty toilets and showers available and there is the possibility to sleep in the gym.
Lu Gia Gen
Baambruggestraat 8a
2546SK Den Haag
The Netherlands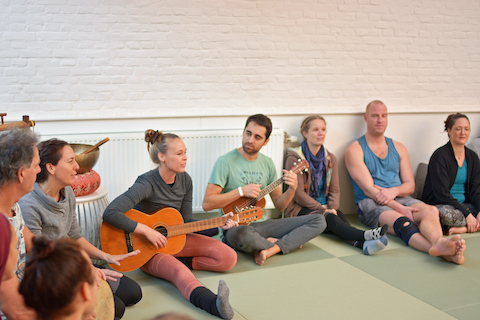 A mantra is a sacred group of words that can be sung as part of Bhakti Yoga, devotional singing. It's one of the aspects of yoga and AcroYoga that allows people to connect with themselves and with the people and world around. We absolutely love to chant mantra's in the circles, because it creates an atmosphere of solidarity and togetherness from which a group can blossom and flow. It will make your AcroYoga practice better and better with this extra bit of juice!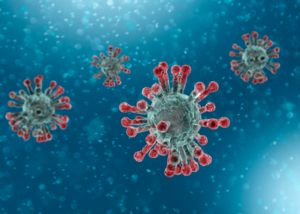 We added an extra cancellation policy so you can safely buy your ticket for the upcoming editions of Dutch AcroYoga Festival.
Your health and safety is what we care about most and we only want to keep the festival as safe as possible for everyone. We will always follow the advice and measures of the RIVM and the Dutch government and might take further measures by our own insight.
Read more about our concerns and the COVID-19 policy here.
to the DAYF Xmas, January 2 – 8, 2022