DAYF Teachers
dutch acroyoga festival
DAYF Xmas 2020 Teachers
Meet the teachers of Dutch AcroYoga Festival Xmas 2020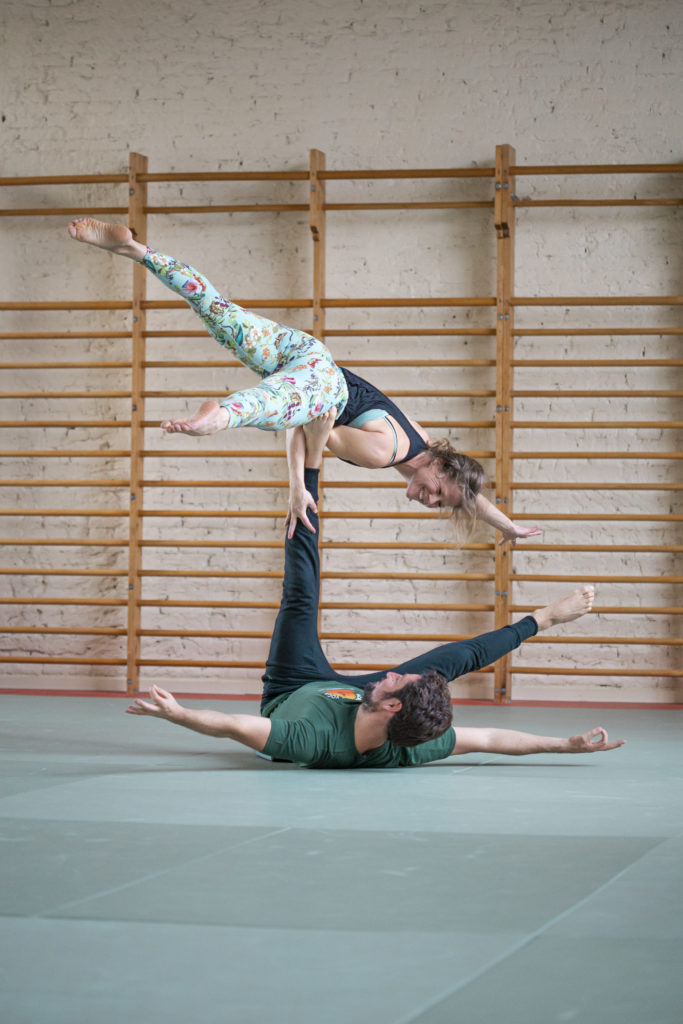 Lennert and Yvonne (NL)
Yoga & AcroYoga Teachers
Lennert Stevens and Yvonne Gravemaker are the founders of Dutch AcroYoga Festival. Few years back, in 2017, Lennert and Yvonne practiced AcroYoga in the park on their first date. Lennert practiced only for few months, Yvonne once did a workshop with Jason Nemer and Jenny Sauer-Klein years back, but never since. Lennert and Yvonne fell both in love with AcroYoga, and… with each other.
Ever since they practice together as much as possible, and after attending several AcroYoga workshops, festivals, and immersion, they felt the desire to spread their love for AcroYoga with the world.
In spring 2018 they taught their first AcroYoga Lunar Workshop, which was a big success, and the following Summer, they participated in the AcroYoga International Teacher Training in Berlin. Since then, they're unstoppable and teach weekly AcroYoga Classes in Leiden, The Hague and Haarlem, organise workshops, got invited for to teach at team-building and team-outing events, and teach and organise the Dutch AcroYoga Festival since 2019.
Their motto: spread the love of AcroYoga with as many people as possible and get them hooked as themselves.
They love the playfulness, togetherness, and connections AcroYoga brings, and have a strong love for flowy side star flows and washingmachines, as well as icarians and whip-pops. They both taught AcroYoga over 500 hours already.
Lennert
Yvonne
AcroYoga Moves (Lennert & Yvonne)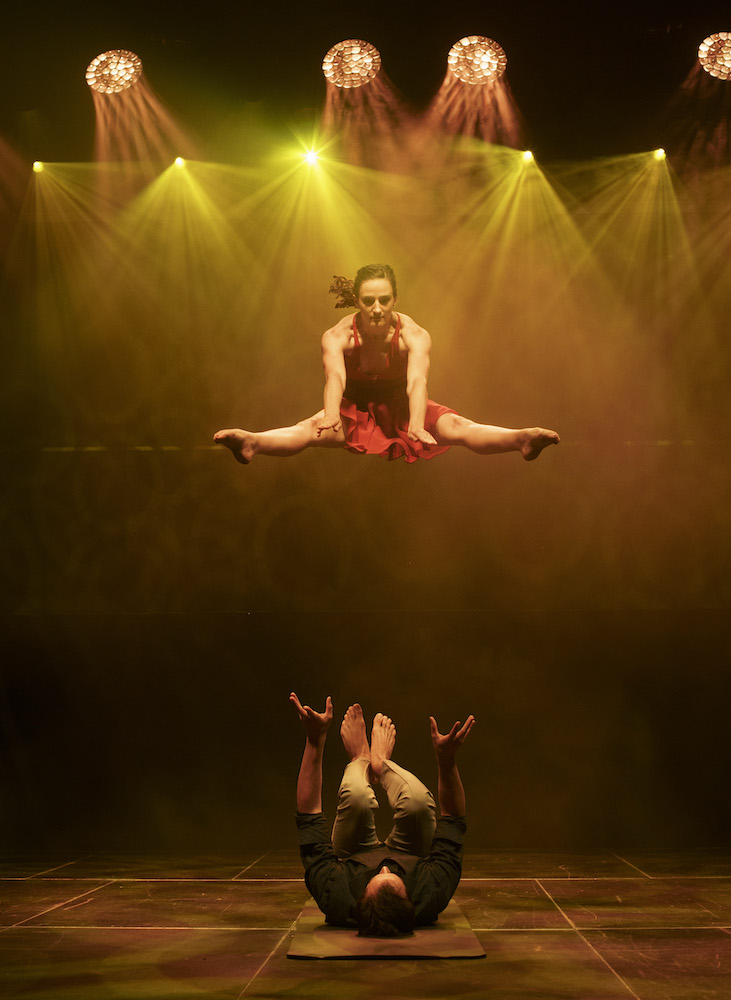 Marysia and Julian (PL)
Icarian Acrobatic Teachers
Marysia Gawlik & Julian Wash. We define our work as icarian acrobatics. We have been intensively cooperating for 2 years, during which we developed our skills by training ourselves, as well as participating in various types of circus and acroyoga festivals. We are lovers of dynamic elements that require a lot of cooperation and trust in pair. Our shows are a combination of icarian games, acroyoga washing machines and partner acrobatics.
In 2019 we've participated in Poland's Got Talent which motivated us to create three new shows and let us won the program.
So far, we have had the opportunity to share our knowledge in several workshops in Poland, including Krakow, Warsaw, Ostróda, Wroclaw and AcroFever Retreat organized in Burdąg.
Besides their duo, Marysia is an aerialist and instructor of aerial acrobatics for children and adults for 4 years. Julian is a circus artist, he is doing a german wheel and juggling act.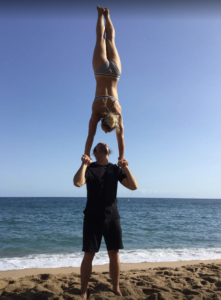 Jarno and Isaiah (BE)
Acrobatic Teachers
Jarno and Isaiah form acro duo from Belgium, and train and cooperate since the beginning of 2019. They met at – oh yes! – an acro convention. They immediately felt a click and work together ever since.
Jarno got infected with the circus virus already when being a child, and his passion for partner acrobatics got him since 2017. He totally fell for it. 
He mainly teaches at 'Circusplaneet' in Gent, and in 2018/19 he also taught at Ell Circo D'ell Fuego. In a life before all the acrobatics, Jarno owned a boxing school. So, now you know where these muscly arms came from 😉
Isaiah had been active in gymnastic competition since she could walk, and now runs her own business in handstand classes. 
After studying she discovered the world of circus, and she loves it!
Together, Jarno and Isaiah teach acro classes at multiple locations and are welcome guests at acro conventions and festivals. They absolutely love to perform, and they're now preparing a long performance, which will have the debut in 2021.
It's actually very interesting on many levels to put a very strict educated gymnast and a more experienced circus artist together 🙂
  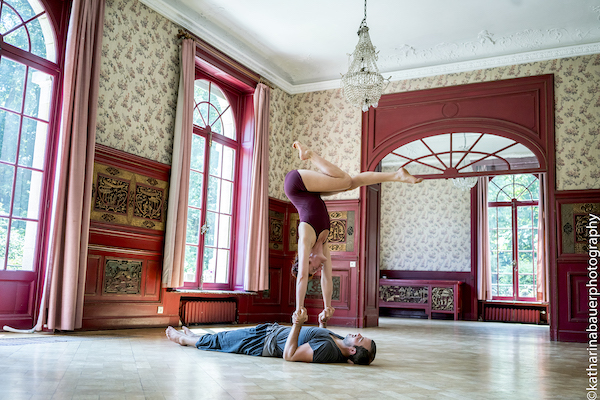 Trevor & Sytske
AcroYoga & Acrobatic Teachers
Trevor started his acrobatic journey as a ballroom dance instructor specializing in dance with lifts. Over time, he came to love acrobatics with or without dance involved. He trains and teaches many styles of partner acrobatics: Standing, L-basing, Icarian, group builds, dynamic, and static tricks. He loves to understand the deeper reasons certain movements work and to find those "aha!" moments both in his own practice as well as for his students.
  
Sytske trains and teaches both in her hometown Nijmegen, NL, and in international events. In her teaching she strives to create a safe space, encourages creativity,  and likes to give personal attention. In acrobatics she loves to be able to truly work together, refining the details to create effortless and smooth movements. In her practice, she likes to explore Hand to Hand balances, fluid dance acrobatics and dynamic pops. 
Sytske and Trevor met while attending Pitch Catch Circus in spring 2019, and they have been training together ever since. They currently teach together in Nijmegen, Netherlands. They both love to discover and work on the refinements and details that make a skill look effortless and calm. They enjoy breaking down complicated skills into accessible progressions to help their students reach new heights. They train most styles of partner acrobatics together and love teaching Hand to hand, Icarian, and Dance Acro. 
  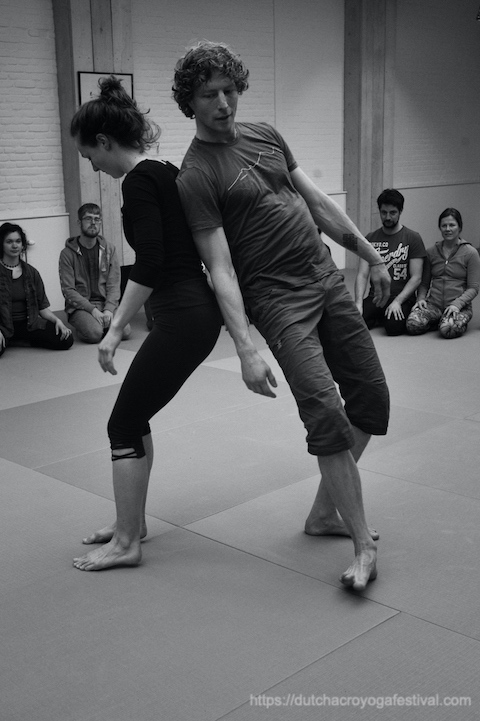 Maxime & Karel
Dans Acro Teachers
Maxime Kroot & Karel Salet.
Maxime Kroot has her roots in modern dance. She loves to create her own movememts combining dance, yoga and acrobatics.
Karel Salet is a dedicated acrobat and has been teaching over the last 6 years in weekly classes, national and international conventions.
Combined they will bring you smooth dancy flows with dynamic acro lifts.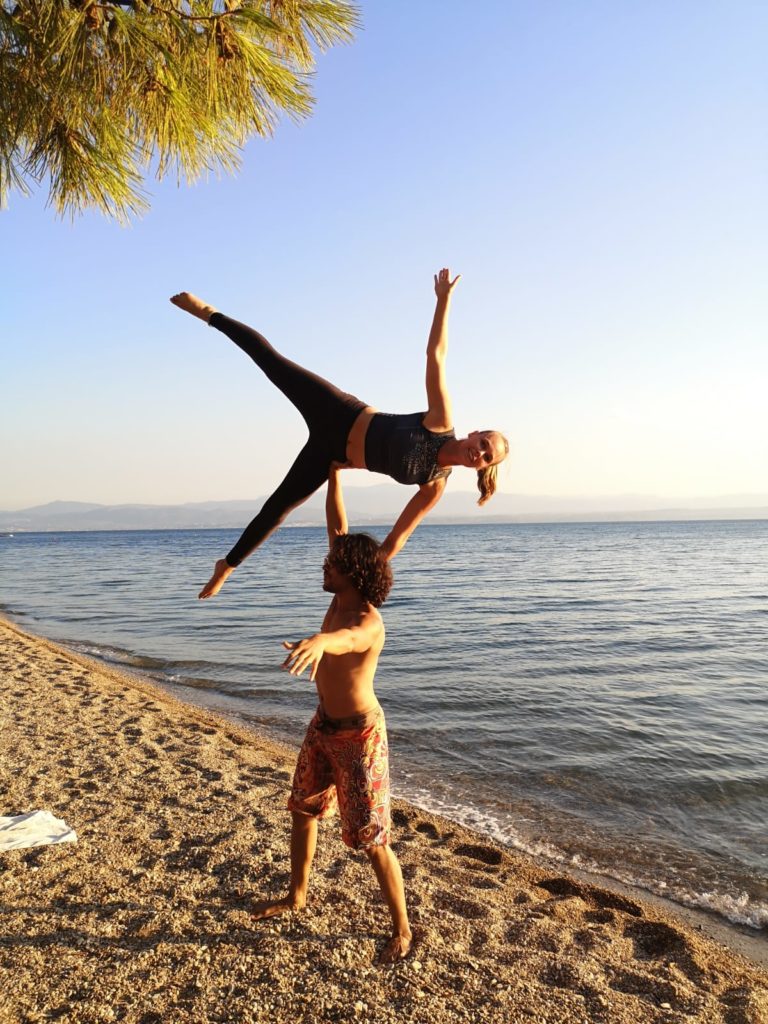 Samuella Barkmeijer
AcroYoga Teacher
In 2017 I started acroyoga. In the beginning it was a challenge, but after a while I started looking forward to the classes and I realized that it brought me much more than just a physical challenge. After a few years of doing acroyoga I did the Acroyoga Teacher Training in September 2019. Now I teach workshops and weekly classes and I am so happy and feel privileged that I can do that.
I love it, that when I am doing and teaching acroyoga, I feel my inner child growing and I can't think about other things like work or 'to do' lists. It helps me to come back in the here and now.
I wish everyone the same feeling that I got through acroyoga in their own journey of life and I love to spread this through acroyoga with you!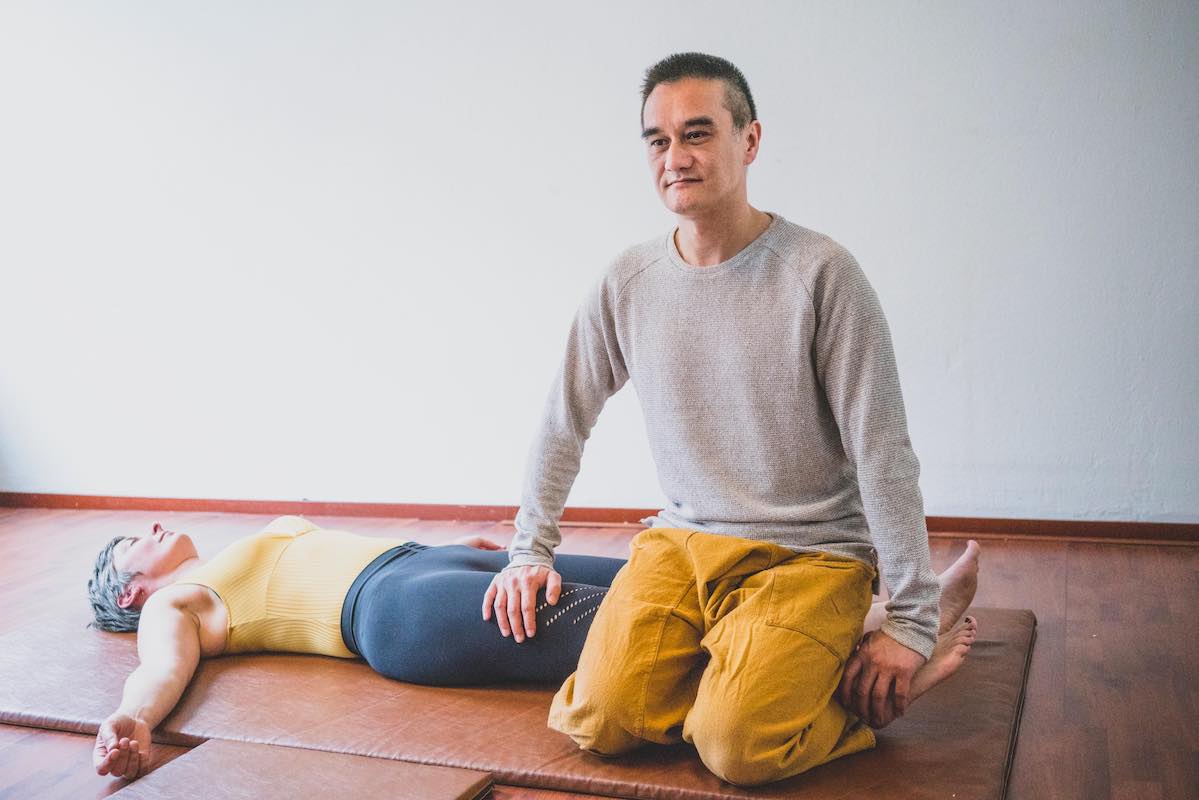 Howdy Tio
Thai Massage Teacher
Howdy Tio is Awareness in motion a concept of experience yourself through movement, structure and breath. Mainly he teaches and gives Thai massage Pichest style throughout the Netherlands. Next to that he is a WDP internal martial arts advanced instructor which held his school for 7 years. Became 3 times national Taiji champion. Since 2003 his life changed into what now his life's mission to spread change in people's lives. His unique way of teaching is a constant evolving fusion of teachers, philosophies and self realization Teaching since 2011 throughout the Netherlands(and abroad) and now has an extensive education program in Thai massage, Thai chair massage, Thai table massage and (private)coaching. If you see me just say hello and im happy to share Thai massage questions.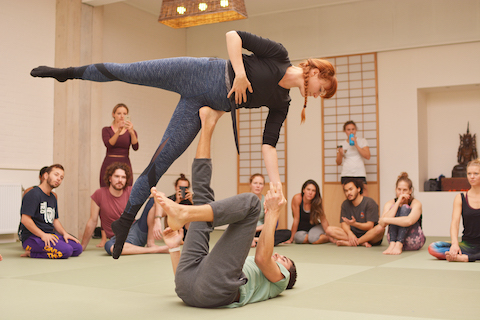 Marijke van der Linde
AcroYoga Teacher
Marijke van der Linde, teacher & co-founder Playful People Tribe
'What if I fall? Oh, but my darling, what if you fly?' AcroYoga guides me to overcome my fears. It helps me to build trust, in myself and others.
It reminds me that life can be playful, that learning can be playful. It shows me what I'm capable of. And what happens during the practice translates to my daily life. 
It feels great to be able to teach this to others. I do this with a lot of enthusiasm and patience. Teaching playfulness and fun is the best job in the world.
AcroYoga came on my path after years of yoga, kickboxing, yoga, mediation, tantra. I instantly fell in love. The teamwork, the playfulness, the gracefulness, strength elements and healing arts: everything I love about movement of body & mind combined. 
I've been in traineeship with Roald for several years before I started to co-teach and expanded my skills with AcroYoga immersions – in acrobatics and healing arts – Thai Yoga massage and Yin Yoga.